Company Profile
Development History
Founded in 2012, Keruyun Technology(Beijing)Co., Ltd. is a global innovative leader in the field of Online to Offline. Keruyun is a cloud-based SaaS company which devotes itself to providing intelligent solutions for the local service industry through in-house developed software and hardware.
The company is headquartered in Beijing, with a Software R&D Center set up in Chengdu and a Hardware R&D Center set up in Shenzhen. Currently, the company has set up 29 branches located in Beijing, Shanghai, Guangzhou, Chongqing, Tianjin, Shenzhen, Chengdu, Wuhan, Nanjing, Shenyang, Changchun, Harbin, Dalian, Taiyuan, Xi'an, Hangzhou, Changsha, Wuxi, Ji'nan, Foshan, Zhengzhou, Suzhou, Zhangjiakou, Dongguan, Hefei, Xiamen, Ningbo, Fuzhou, Qingdao and other cities, with more than 1400 employees, more than 80 authorized agencies nationwide and more than 15,000 merchants. Until now there are over 150,000 B-side practitioners using Keruyun, over 4.5 million C-side consumers, and over 9 billion RMB GMV per month.
December 2015, Keruyun successfully listed on the NEEQ (Code: 835268), which provides the company a new platform for the operation of the capital market. On August 5, 2016, Keruyun released a new product OnPOS mini and lauched a new financial service, the Wallet Payment. After four months it has completed its B+ round with an investment of 72 million RMB. To meet the increasing market demand, Keruyu decided to issue an 150 million RMB inverstment for its C round on December 20th. Keruyun has been committed to connecting people and services more intelligent, efficient and simple, hoping to change the future of the service industry.
Corporate Philosophy
With the concept of "SMART SERVICE ON TARGET", KUYUYUN provides a comprehensive solution covering the full range of productivity enhancement tools, real-time interactive portal, brand loyalty enhancement and profit management.
KUYUYUN combines the characteristics of the mobile Internet era, leading the service industry intelligent Internet. To redefine the rules of the future business services as the goal, through the intelligently, efficiently, simply, connecting people and services, creat a mobile consumer platform of life services.
Slogan
KERUYUN Brand Positioning: SMART SERVICE ON TARGET. Make it more intelligent, efficient and simple to connect people and services.
Product and Service
"KERUYUN" service will focus on catering businesses in three levels to improve the operation and management of the restaurant.
1. The whole line of efficiency tools: KERUYUN businesses provide, intelligent, cloud service for Catering enterprises in booking, queuing, take-away, ordering, cash register, membership, marketing, supply chain management and other restaurant management tools. These easy to use, convenient and efficient tool to enhance efficiency, enabling businesses to provide consumers with a variety of services to enhance staff efficiency, while improving business management efficiency.
2. Real-time interactive entrance: KERUYUN for businessmen to provide collection, WeChat, microblogging, reviews, Baidu map, Baidu glutinous rice, Baidu take a series of online real-time interactive entrance, efficient connection business and consumers, let the business the first time to understand Consumer demand, enhance the consumer experience.
3. Brand loyalty and profit management: business efficiency and business to open up the entrance to open up the same time, businesses to improve turn over rate, save time, personnel costs, while profit margins improved, "KERUYUN" through intelligent background to help businesses upgrade Consumer loyalty to the merchant brand, and to provide business-based members of the consumer data, marketing and other services, once again mention the profit margins of the business, to see the long-term profit management. Provide cloud supply chain, management of business cost, raw materials, inventory, supply chain sources and so on.
CEO Peng Lei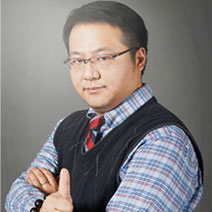 Chinese Name: Peng Lei
English Name: Phoenix
Position: KERUYUN founder and CEO
Experience:
PengLei graduated from the University of Science and Technology of China with a bachelor's degree in mechanical and electrical engineering,and received a master's degree in software engineering from Hong Kong Polytechnic University.
Since in the University, Peng Lei has founded a number of companies covering different areas, including: O2O, Group Buying, Database Marketing, Data Mining, CRM, SNS and also Enterprise applications. For now,he has more then ten years of entrepreneurial experience.
As a senior entrepreneur, Peng Lei has wealth of experience in exploring new internet business models, integrated operations management, research and development management.
Resume:
Hefei BO ER Technology Ltd.Founder and CEO
Beijing ZHONG TAI BO ER Technology Ltd. Founder and CTO
SHOU DE DA CHUANG Technology Ltd. Founder and CTO
24-Coupons Founder and COO
Present position:
KERUYUN Founder and CEO
Corporate Vision
Make it more intelligent, efficient and simple to connect people and services.
Corporate Mission
To be a technology-driven company, that provide innovative and high-quality products and build mobile internet ecosystem for the service industry.